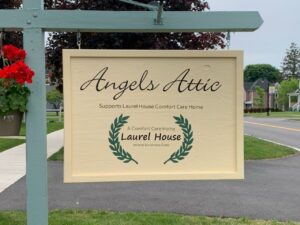 Angel's Attic is a resale Boutique and Shop that supports Laurel House Comfort Care Home in Newark, NY.
Laurel House serves people during the last stage of terminal illness. We have been opened for 14 months and have become a staple of the community.
The Boutique is run with 100% volunteers with 100% of items donated by community members and family members of people who have spent time at Laurel House. Our inventory is constantly changing and we do hold sales periodically throughout the year.
Hours: 10-4 Thursday – Saturday
We accept cash and checks only.
Donations are accepted when the shop is open. We will provide donation receipts when requested.
Currently, we are a small shop and have limited capacity for furniture.